This is my new SE Racing Hauler bike. Rescued from under a bunch of grime and dust in a storage garage.
Restored with some new parts, but mostly old, in November 2003.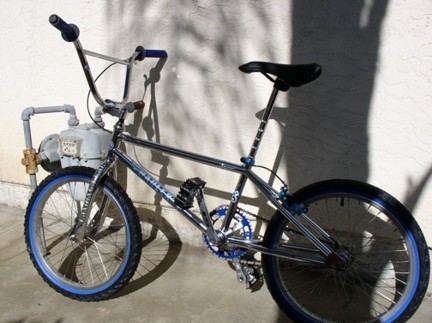 Parts:
SE Racing Hauler chrome frame

Chrome SE Racing Landing Gear forks with logo stamp

DK stem - Polished alloy

Odyssey Triple Trap pedals - black

SE Racing Powerwing bars -chrome

Diamond Back grips - blue

Dia-Compe MX-1000 brakes - blue

Sumo alloy rims - silver alloy

Stainless steel nipples - silver

Stainless spokes

ACS alloy sealed hubs - silver

Ritchey SpeedMax tires - blue

GT alloy cranks - silver

Generic chainring - blue

Chrome SE Racing seatpost - Chrome

DK seat - black

Toiga bottom bracket - standard
---
Click on a thumbnail to see a larger version of each photo...
All photos on this site are copyrighted! Copyrightę 2005 | David Shabestari | SDG, Inc.